British Isle Championships
CCSMBA NEWS RELEASE
15 November 2015
British Isles Championships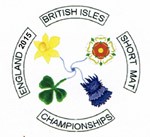 Over the weekend 9 local bowlers travelled to Aberdeen to compete in the British Isles Short Mat Bowls Championships. It is not possible to bring a complete report due to the English Short Mat Bowling Association having not updated the results on its website.

Tom Westlake, Luke Jolly, Ed Dyer & Karen Watson as the current English National Champions took their place in the Fours championship. They opened their campaign on Saturday with a 9-6 win over the hosts Scotland and followed up with a narrow 13-12 win against Wales. In the days other other games Ireland drew 11-11 with Wales and defeated Scotland 19-3. Going into Sunday's deciding game a win or draw would be enough against the strong Irish rink. The game proved a tough one and an early large score against cost the Cornish rink as they were unable to recover and lost the game.

Nigel Nicholls and Peter Hore competed in the Team event which was won by Ireland, both enjoyed mixed results in their respective rinks.

David Studden played in the A Team Pairs and finishing third overall after a narrow 2 shot loss to the Irish Pair in the final game after all four nations went into the final round of games on two points.

Gillian Cawrse played in the A Team Triples and after defeats against Wales and Ireland the final result against Scotland is not known at the time of writing.

Elise Daniell took her place as one of the 16 players in the A Team Rinks competition with England taking the championship honours.



Cornwall players at British Isle Championships
David Studden, Nigel Nicholls, Luke Jolly, Peter Hore, Tom Westlake, Ed Dyer
Gillian Cawrse, Karen Watson, Elise Daniell

Inter Area League
Back in the county the Inter Area League fixtures North v West and Central v East were played at Carnmoggas on Sunday, the results were not known at the time of writing.

Mixed Fours and Triples
A busy weekend of county competitions ahead with the Mixed Fours on Saturday and Triples on Sunday, both at Carnmoggas.

League Tables
Up to date league tables can be accessed by following this link http://www.nicholastruscott.co.uk/2008site/index.php?pg=tabledisplayall
ENDS
Nicholas Truscott
Press and Promotions Officer
Cornwall County Short Mat Bowling Association
Tel - 07800 916059
E-mail - cornwallshortmatbowls@gmail.com
Copyright © 2015 Cornwall County Short Mat Bowling Association, All rights reserved.
Cornwall County Short Mat Bowling Association maintains a list of local media outlets for a number of years and regularly send out news releases.

Our mailing address is:


Want to change how you receive these emails?
You can update your preferences or unsubscribe from this list